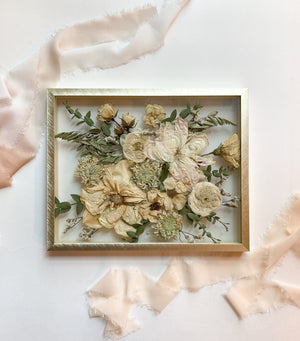 Custom Framed Pressed Flowers
Sale price Price $50.00 Regular price Unit price / per
These framed florals are the perfect way to preserve any flowers that hold sentimental value! 
Preserve your wedding bouquet, flowers given by a loved one, baby showers, or even flowers from a memorial. These fine art pieces make the perfect lasting keepsake! If you would like to capture your flowers in full bloom and color, or if your flowers have already dried, head to our Custom Bridal Bouquets to purchase a watercolor of your beautiful blooms! 

If you would like dried flower artwork for your home and would like me to provide everything from the flowers to the frame, message me and I would love to create this for you! Email or Text: amber@refinedstudio.co
THINGS TO KEEP IN MIND:

The 5x7 option is not recommend for bridal bouquets but this option is perfect for boutonnieres or small arrangements. 
Flowers press the best within a week of the event. 
There are some flowers that do not respond well to the pressing process so we cannot guarantee that every flower will make it into the completed artwork.
If you have an all white bouquet, there is a high possibility of the flowers turning brown. Oftentimes, the outcome is beautiful and gives a moody feel. However, if the flowers are too dingy and too brown, they will not make it into the completed piece of art. 
As the flowers dry, the fading will give your blooms a beautiful vintage atheistic that we embrace. We do recommend that you display your artwork in a place with no direct sunlight. 
Frame styles vary due to availability.
Flower pressing is a lengthy process and can take anywhere from 4-10 weeks.
We create each piece with intention and care, capturing the style of your beautiful bouquet!
HERE'S HOW TO ORDER:
STEP 1: Select your frame size and color, add to cart and proceed to checkout! (Use the code: STUDIOPICKUP for free local pickup. Gainesville area only.) Let us know in the checkout note section if you have any specific requests or if you would like us to include the ribbon in your finished piece.
STEP 2: Email or text us at amber@refinedstudio.co letting us know if you need to ship your bouquet to us or if you would like to drop it off locally. (Local to Gainesville area only) *Note: If you would like to ship your arrangement, I will give you instructions on how to do so.
STEP 3: Receive your framed dried florals! If you would like to pick up your artwork locally, use the code: STUDIOPICKUP for free local pickup. We will arrange a time for you to pick up your beautiful dried blooms!